Conference format
The biofilms 9 online conference will technically be realized using virtual ZOOM meeting rooms. This applies to oral as well as poster presentations. Exhibitors will also get this opportunity to present themselves (e.g., webinar, question-and-answer sessions, etc.). Each virtual meeting room will be hosted by the organizers (KIT) and will have a co-host. The co-host will either be the presenter of an oral presentation (incl. invited talks) or poster presentation. Since the conference has no parallel tracks there will only be one virtual meeting room for the main session. Links and login details will be provided in time.
Oral presentations are limited to a maximal duration of 20 minutes (15 minutes talk + 5 minutes questions and answers). Due to the tight schedule we request each attendee to stay within his/her slot.
To allow for easy selection of the right speaker/presenter name yourself according to the following scheme: ID<of your abstract>_<LASTNAME> <firstname>. Example: ID = 007, lastname = Doe, firstname = Jane gives ID007_DOE jane. Thanks in advance for your support.

Each poster presenter will get an individual virtual meeting room in ZOOM for 40 minutes (depending on the number of posters per day) to present and discuss the poster. It will be further possible to upload materials on the conference server, which will be available for the participants of the conference only. So you can prepare your poster as pdf and upload it in advance, if you like. Each poster presenter will only present her/his poster at a single day. A list of all poster presentations (day, time, virtual meeting room) will be available during the conference. In particular, conference attendees interested in your poster can enter the ZOOM room dedicated to your poster in order to discuss your results and ask questions (audio open). By sharing your screen via ZOOM you will have the opportunity to display the poster or (maybe better) a few slides (e.g., Prezi).
Each virtual meeting room will be hosted by one of our staff members. You will be the Co-host and thus able to share your screen. All other issues (e.g. entering of participants, technical issues) will be managed by us.
Important:
Once all required virtual meeting rooms have been set-up, we will contact the authors in order to arrange test presentations.
Due to data protection restrictions no content is going to be recorded.
Supporting information uploaded by you to the conference system (e.g., presentation as PDF, etc.) can be downloaded by registered participants.
You reach the link to the conference session via the programme (see "How to access the programme"). You'll be asked to enter your biofilms9 user ID in order to check if you are registered! Watch these videos for guidance: orals, posters
The virtual meeting room of the conference will be open from 10:30 a.m. (CEST).
Emergency hotline: +49 721 608 42581
How to access the programme
There are three different approaches to access the programme in your preferred way:
Browse by day & time:
Online view of the oral and poster sub-sessions and their time sorted chronologically by conference days and time blocks;
Browse by session:
Online view of the sessions and their oral and poster sub-sessions, sorted by session numbers;
Personal programme:
Online tool to generate your own personal programme by selecting specific presentations or sessions.
Download proceedings here
View the keynote of Alfred Spormann here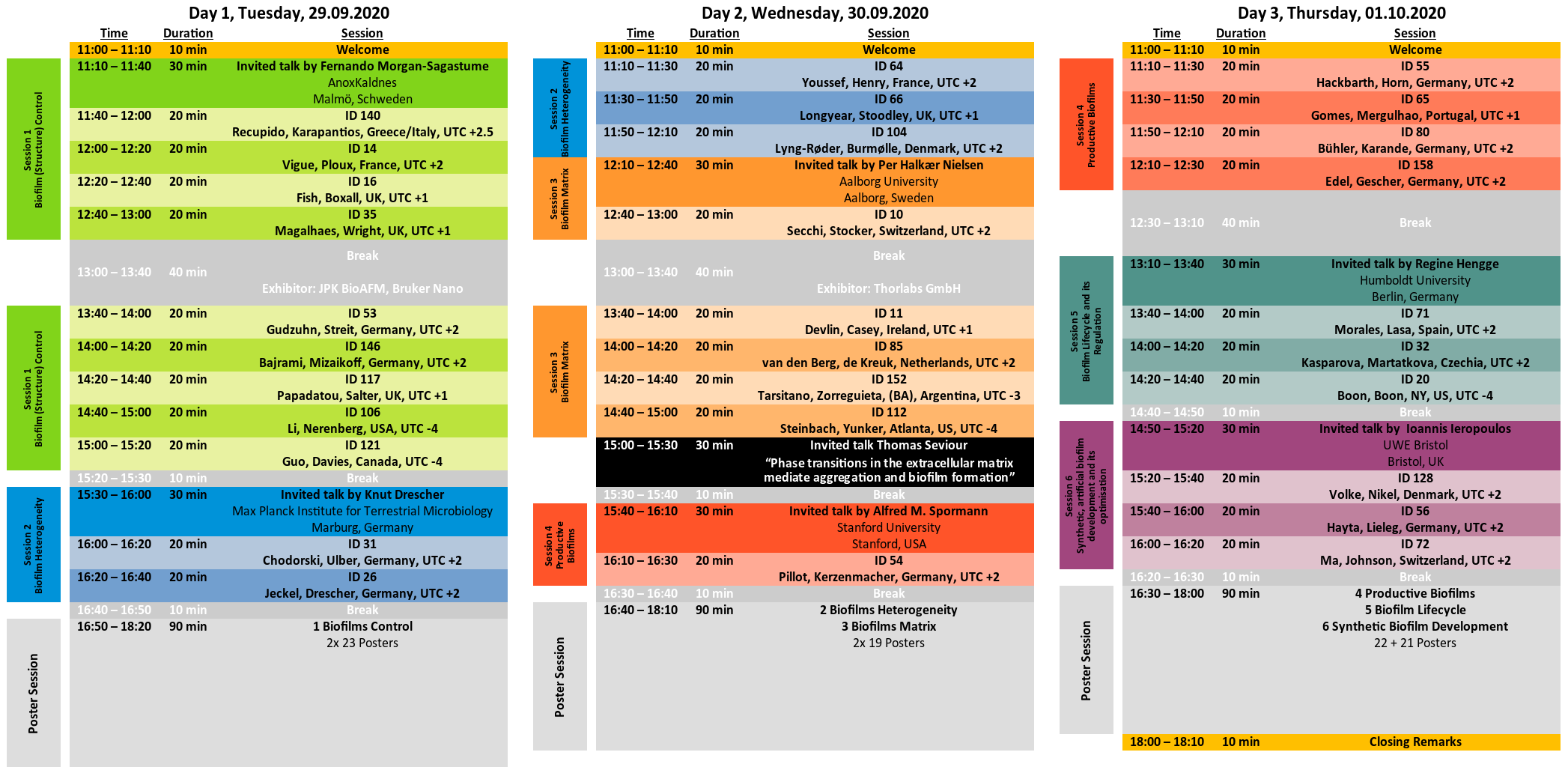 (click image for larger view)
Announcement: Special Issue in Journal Microorganisms
| | |
| --- | --- |
| Title | Microbe Electrode Electron Transfer: Understanding Interactions from the Enzyme to the Microbial Community Level |
| Guest Editors | Prof. Dr. Johannes Gescher and Dr. Catarina Paquete |
| Deadline | 15 October 2020 |
| Description | With this Special Issue we encourage colleagues to submit papers that address: (1) the fundamental microbial biochemistry of extracellular electron transfer onto electrodes; (2) the impact of biofilms and their structure on electron transfer kinetics; (3) the characterization of new biocatalysts acting on the anode or cathode site; (4) as well as the further development of strains for electrode-assisted or driven processes. |